Cash gift, future life insurance gift create safety net for future UA students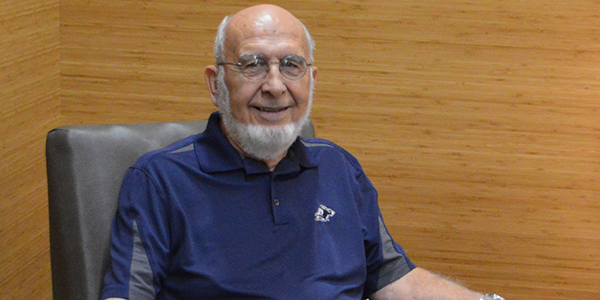 Loren Hoch, Ed.D., has always been a quiet man, led by his Midwestern ideals on life, how to treat others, and how to make a difference. A University of Akron professor emeritus, he spent nearly 30 years preparing students academically - and helping them see their own life choices more clearly.

In retirement, Hoch maintains a spirit of volunteerism that holds true to form. In fact, his most recent gestures include donating a generous present-day gift and bequeathing his life insurance policy to The University of Akron in support of The Dr. Loren and Emma Hoch Scholarship Fund, which honors his late wife, Emma. The endowed scholarship will transform lives in perpetuity, providing scholarship assistance to senior students in the Buchtel College of Arts and Sciences.

Hoch earned his doctorate in education from Indiana University and joined UA in 1969 from Hammond, Ind., where he previously taught high school. At UA's College of Education, where he taught K-12 science education, Hoch was invited by then-Dean Bill Rogers to provide local help for an initiative combatting the problem of school-age children and experimental drug use.

"I was asked to create a series of summer workshops on drug education programs that trained teachers to deal with students who had drug issues," said Hoch, now 86 years old. "I did that for 15 years during the summers, and it gave me a great feeling. When I go around town, I still get comments from people who say, 'Hey, I was in your workshop!'"

After retiring from UA in 1997, Hoch and Emma sailed Lake Erie for a time. "How a guy from Indiana developed such a natural curiosity for the water, I'll never know!" Hoch joked. The couple later bought property near Woodsfield, Ohio, where they created a gathering place for friends and former students, many of whom still come by.

Hoch believes his scholarship gift, in a sense, is a way to honor Emma's memory and remain connected to students with whom he worked many years ago. The scholarship aids full-time biology students with GPAs of 3.0 or higher who are in their final year of undergraduate study. Hoch consulted with his sons, who agreed with making the gift as a tribute to their mother who passed away in 2013.

"Emma was very kind and always found ways to help others," he said of the woman he met at then-Indiana Central College when she was studying nursing in the late 1950s. Rules in that era, however, prohibited married women from taking college-level nursing programs, so she left. Later, Emma worked in doctors' offices, raised the couple's three sons, and finally rejoined higher education at UA's Office of International Programs, where she helped ease international students' transitions to the United States via in-home interactions with UA faculty.

"I had heard about the gifting opportunity and thought it was a great way to help others, which was really Emma's life's work as well," Hoch said. "My sons, who all studied at UA, really supported me in doing this."

"This is just my way of helping future generations, people who are 20 or 30 years into the future. We need to give them a little boost to get through."

Hoch said the life insurance gift opportunity is an easy way for anyone to make a difference. "I certainly felt I had an opportunity, really an obligation to pass on something," he explained. "This is something, I think, others really should think about doing. It will definitely impact the lives of those who come after us."

The University of Akron Foundation highly recommends that you consult with your legal and tax advisers due to the complexity of estate planning and techniques that offer charitable tax benefits. Gift and Estate Planning staff members also are available to speak with your advisers.