Isidore Myers '39 funds scholarships through generous bequest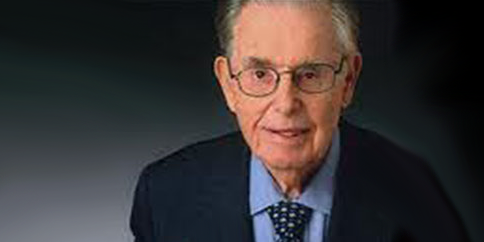 Isidore C. Myers was known as an astute businessman, but during his lifetime the University of Akron graduate, who earned a bachelor's degree in business administration in 1939, also garnered a reputation for philanthropy, which he generously extended to his alma mater.

Born to Polish immigrants who moved from New York City to Akron in 1919, Myers started working at age 6, selling newspapers on a street corner, and was the youngest and last of three brothers to found Myers Tire Supply Company in the 1930s. Originally a tire repair and retreading shop, the business eventually was renamed Myers Industries to better reflect its increasing business diversity and today is a publicly traded company - still based in Akron - with annual sales exceeding $700 million.

Among Myers' many contributions to the company was establishing in the 1940s the business unit known as Akro-Mils, which manufactured plastic storage products. It continues to be among the organization's most profitable divisions.

In 1971, Myers was executive vice president, secretary, and a director of the company but sold his interest in the business two years later and moved his family to Southern California to begin a career in industrial real estate. In a company statement at the time of his move, Myers said, "I believe there are unlimited opportunities to improve the quality of life and also serve yourself through business geared to the basic needs of people, like better housing, products to improve the environment, and products to make life more rewarding."

By the 1990s, Myers and his wife, Penny, who were married for 56 years before her death in 2003, began to focus on "giving back." Together they established the ICM-PWM Foundation to benefit numerous philanthropic, educational, religious, medical, and social welfare organizations.

The couple's largesse included The University of Akron, where they had made gifts since 1952. In 1996, they established The Isidore C. and Penny W. Myers Endowment Fund, which was funded through a generous bequest following Myers' passing on May 20, 2013, in Newport Beach, Calif. He was 96.

The endowment was created to provide annual scholarship assistance for employees of Myers Industries or their children who are enrolled at The University of Akron and studying in the College of Business Administration.

"A person must strive to leave this world a better place than when they entered," said Myers at the time he and his wife established the scholarship fund. "The education I attained at The University of Akron was crucial to the success I achieved in my business career and in my life in general. It is time to repay The University of Akron, my mentors, and benefactors. Penny and I are delighted to help others become college-educated so they, too, can be the best they can be."

A life insurance policy gift is a versatile and easy way to make a significant impact. Through such a gift, the donor may:
Name The University of Akron Foundation as the owner or irrevocable beneficiary of a life insurance policy;
Transfer an existing policy, receiving immediate tax deduction benefits;
Claim tax deduction on premium payments made directly to The University of Akron Foundation on a policy the Foundation owns; or
Specify during his/her lifetime how the gift ultimately will be used.
Gifts may support scholarships, faculty research, or provide unrestricted support for areas of greatest need within the University.