$2.8 million gift will support UA students of practical politics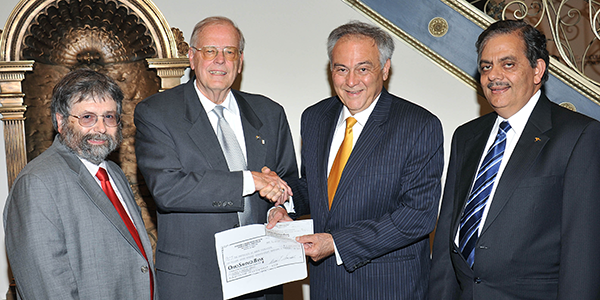 Students at The University of Akron's renowned Ray C. Bliss Institute of Applied Politics are the beneficiaries of a $2.8 million estate gift to fund internships designed to help students learn practical politics firsthand.

The extraordinary gift comes from the estate of Howard Haberkost, who previously had set up an endowed internship program at the Bliss Institute in the name of his uncle and aunt, Judge Clande and Thelma Emmons. The Emmons were politically active contemporaries of Ray C. Bliss, contributing to the development of Ohio's judicial system. Judge Emmons was a 1921 graduate of The University of Akron.

Howard Haberkost passed away Aug. 19, 2011. The check, in the amount of $2.778 million, was presented by Dean Smith, the estate's executor, to UA President Luis Proenza and Bliss Institute Director John Green last week.

Wide-ranging opportunities
"The funds will be used to help student interns with the extra costs of an internship in politics and government," said Green. "Our internship program is nationally recognized, providing opportunities for students at the local, state and federal levels - even in Canada - in areas as diverse as party politics, campaign management and lobbying. We place students in internships in areas of applied politics that are of greatest interest to them."

Students have the option to take their internships in Northeast Ohio while taking classes. Others may go to Columbus, Washington, D.C., or elsewhere to get a full-time experience. Many students do both, taking a local internship in the middle of their degree program and taking an out-of-area internship as the highlight of their degree preparation. Interns have been placed in political party headquarters, congressional offices, campaigns, the offices of campaign consultants, media consultants, interest groups, elected public officials and federal agencies.

Howard Haberkost was a graduate of West High School and Purdue University and a member of the Phi Kappa Tau Fraternity. A retired accountant for Roadway Express, he was a first lieutenant serving in the U.S. Army Transportation Corp.

The Ray C. Bliss Institute of Applied Politics at The University of Akron is one of the few university programs specializing in applied politics. The Bliss Institute was founded in 1986 and named for The University of Akron alumnus, trustee and former chair of the Republican National Committee. A nonpartisan research and educational institute, Bliss involves its staff and students in applied and scholarly research, providing a source of up-to-date information for the general public, as well as political practitioners and academicians.